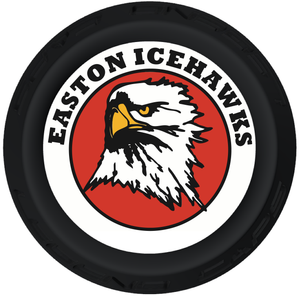 EASTON ICE HAWKS HOCKEY LEGEND CAPS
LEGEND CAPS
Regular price $14.99 Sale
SUPPORT YOUR EASTON ICE HAWKS
25% of every EASTON ICE HAWKS LEGEND CAP sold goes towards the Eastern Shore Hockey Association (ESHA) 
The Eastern Shore Hockey Association (ESHA) is a non-profit youth ice hockey organization, committed to helping our children to learn and develop the skills necessary to play ice hockey in a safe environment.
Easton Ice Hawks currently have teams dedicated to recreational level youth hockey (CCHL / Red teams) as well as a more competitive Tier II youth hockey program (CBHL / Blue teams). Both, the Red and Blue teams, are USA Hockey age levels 10U through 18U.  We also offer 8U and 6U instructional hockey which teaches the basic fundamentals and elements of the game, this program may participate in games and 8U jamborees which are usually cross-ice with limited travel.
Easton Ice Hawks LEGEND CAPS are engineered to fit precisely on your hockey stick. LEGEND CAPS shape and size was designed for optimal stick control and leverage while either shooting or throwing a check.
Email info@legendcaps.com for additional options or help with creating your custom LEGEND CAPS.